Campsites are booming as a holiday model and, each time, their visitors are more demanding with one of the key services or benefits: WiFi. In this article we guide you on the particularities and best practices in an installation Wi-Fi for campsites.
Proposing a WiFi deployment in these spaces is not easy due to the extension, the different barriers that affect coverage or the very nature of the space, where it is crucial to minimize the visual impact of the antennas or prevent the signal from being transmitted through the air over long distances.
Keep in mind that the negative influence of vegetation, the terrain's own orography, or the different materials that interfere with the quality of the signal, are handicaps that must be studied in detail.
Why is it important to offer a good service? WiFi for clients in campsites?
With increasingly longer stays, with more clients working remotely and carrying more devices connected to the network, it is no longer enough to offer the free WiFi service, but it is necessary to improve its quality and security, if we do not want to lose our pulse competitive.
The benefits of having an optimal installation WiFi in campsites include:
Attract new customers through

of the positive evaluations that they can leave on the Internet WiFi is always one of the aspects most valued by customers, along with the location or the leisure facilities available.

Increase the length of stays:

Defining an infrastructure that takes into account the appropriate bandwidth for each area of ​​the campsite, such as the common areas or the area of ​​cabins or motorhomes, will encourage the client to value increasing their stays. To do this, we must offer the optimal quality to work remotely or enjoy the same connectivity that you have in your usual home.

Improve satisfaction levels:

a satisfied customer will recommend your campsite and you will thus be able to attract more and more customers.

Generate additional income:

You can offer premium WiFi packages or other solutions such as temporary WiFi access and monetize this service. On the other hand, offering the possibility of connecting to WiFi through login or social login, will help you to have customer emails or social accounts, to which to direct your marketing actions and with which to increase your online visibility.

Improve the competitiveness of your campsite:

Maintaining old facilities no longer allows you to meet the demands of your current guests. In addition, they can generate recurring problems of maintenance costs.

Capture more and better data from your visitors

through a

WiFi hotspot

, to later communicate more products or services.
What to consider before starting an installation or upgrade project WiFi for campsites
1. Define the objectives of the WiFI network
It is necessary to define the most important uses of the network and what technologies or devices can be executed through WiFi. It is also important to define the necessary restrictions and protection measures for all applications connected to the network.
2. How WiFi will be provided to staff, campers and users of motorhomes, cabins or bungalows
The location of the Internet Service Provider (ISP) equipment will help us determine what is needed to transmit the signal, be it Ethernet, through wireless access points or through fiber optics, capable of bringing more technological services to the cabins or motorhomes. It is the case that we want to offer access points IPTV, Por ejemplo.
3. Study how far the Internet service entry point is from the different desired coverage areas
¿How to improve WiFi reception in a campsite? How to have better WiFi in a campsite?
These are common queries from campers and are linked to the coverage of their pitches. Studying the distance between our ISP's equipment and the coverage area will allow us to consider the necessary hardware equipment, where to place it and how it should be.
You may also need to run cabling from the entry point to many other pieces of equipment to connect different access points. In addition, you should study that this equipment is designed for outdoor installations, to ensure a longer useful life.
4. Study the WiFi bandwidth needed for each zone
Higher bandwidth allows more users to connect and offer higher quality WiFi. Not only must an optimal output width be assessed through the Internet provider, but the installation must be able to maintain that width in areas where it is necessary to offer the highest quality, such as in cabin areas or spaces for entertainment with a high density of users connected at the same time.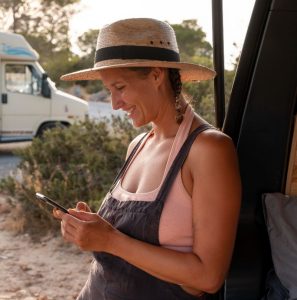 Offer the best WiFi quality at your campsite with Cerium
Experts in auditing, design, implementation and maintenance of WiFi infrastructures in hospitality.
In relation to the previous point, the density of users in each zone helps us to define a number of connected devices. It is recommended today to mark 2,5 devices per user. This step is prior to the definition and location of the different access points.
6. Define the quality of service that you want to offer
Depending on the quality that you want to offer to the staff, campers and users of motorhomes or cabins, you can define the network of access points. The usual thing is to design 2 access scenarios: through a captive hotspot portal and a corporate WiFi service for employees.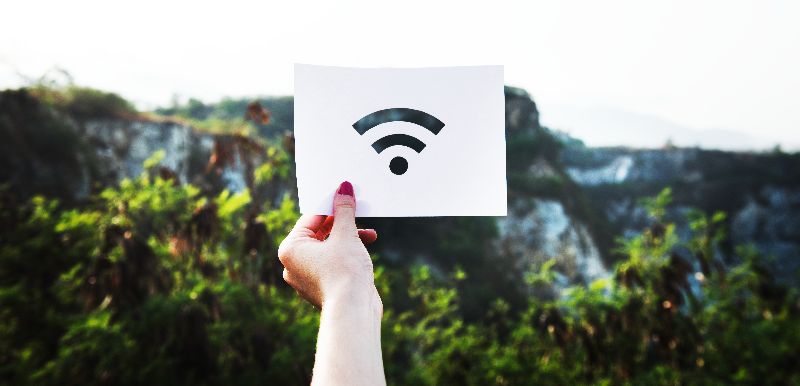 Key points of an optimal WiFi design for campsites
GPON installation
In relation to signal quality, the usual deployment of wireless mesh network technology has limitations in campsites. The radio points are misaligned and are often affected by vegetation. To optimize this design, the ideal is to connect the main repeaters with fiber optics.
In this way, we guarantee the best quality of service in the different common areas of the campsite: cabin area, motorhomes, camping pitches, leisure areas (cafeteria, swimming pool or playground), washing machine area, supermarket...
Why GPON?
An installation with conventional wiring is not efficient for deployments over long distances, it generates more waste due to its shorter useful life and complexity, and it is affected by external factors such as humidity. In addition, it requires refrigeration and intermediate electronics, with the higher associated energy cost.
On the other hand, different technological services can be integrated into the same wiring, such as sending a CCTV signal through different areas of the facilities.
Discover all the advantages of GPON fiber optics
At CERIUM we are experts in the design, installation and maintenance of GPON networks. We integrate different technological services in a single network cable.
Latest Wi-Fi technology
In the design of the wireless infrastructure it is essential to have the latest WiFi protocol. Keep in mind that more and more applications that consume a lot of bandwidth (for example, video playback) are used.
Installing access points with the latest high-speed WiFi 6 technology will provide support for these increasingly used applications. This will improve the experience of your campers and encourage your customers to leave positive comments online.
It may interest you: What is WiFi 6 and why you should update your network now
Improves the security of the WiFi network
Campsites are spaces with a large influx of people and daily connections to the network. It is important to comply with the latest legislation applied to public WiFi and for this it is crucial to bet on the installation of a hotspot captive portal,, which allows WiFi monitoring; as well as apply extra security measures such as firewalls.
solo Suppliers With experience in Wi-Fi network security They can provide your network with sufficient guarantees to protect your sensitive data and that of your customers.
Make the most of Wi-Fi marketing
Another advantage of installing a captive portal is to disintermediate and take control of your campers' contact data and emails. Capturing this information will allow you to automate communications with them to extract useful information such as preferences or activate sales and loyalty actions.
Keep learning: How to activate social WiFi marketing actions in your business
As we have seen, each campsite has special characteristics: weather conditions, dimensions, technological needs or distribution of the desired signal... Companies specialized in the hospitality sector such as Cerium can offer the best solutions Wi-Fi for campsites, and put all his know-how at the service of a efficient, scalable and, above all, safe installation. Do we talk?
Contact Cerium through this form: