¿Are you worried about the cybersecurity of your hotel and being informed about the new targets of cybercriminals? would you like to know what cybersecurity trends can't you let go? In this post we inform you of the main challenges that hotels will face at the cybersecurity level. Take note!
Cybersecurity experts anticipate that cyberattacks and their complexity will intensify each year. For this reason, most companies anticipate Increase your investments in cybersecurity.
The objective: to strengthen your position regarding the great challenges of cybersecurity: prevent attacks, have faster response times and improve the ability to manage threats.
What cybersecurity challenges does the hotel industry face?
The WiFi network, providers, new technologies and the management of large amounts of data are some of the areas most likely to suffer cyberattacks in the hotel field. They are, therefore, the great straight that will mark the future trends in cybersecurity in hotels
On the other hand, we must add the lack of professionals specialized in computer security and, more specifically, with demonstrable experience in a sector as attractive to cybercriminals as hospitality.
Vulnerabilities linked to the WiFi network
Hotel WiFi systems are one of the main weaknesses in cybersecurity. Many hotel WiFi networks have vulnerabilities that could put guests' personal information at risk, including very sensitive datasuch as bank card numbers.
Maybe you are interested: cybersecurity audit for hotel companies
It is very common to use access systems with easy-to-guess passwords, which allow the attacker to gain remote control over the configuration of an Internet access gateway and its databases. Additionally, this access can allow attackers to redirect guests to malicious web pages to steal their data or introduce viruses to their devices.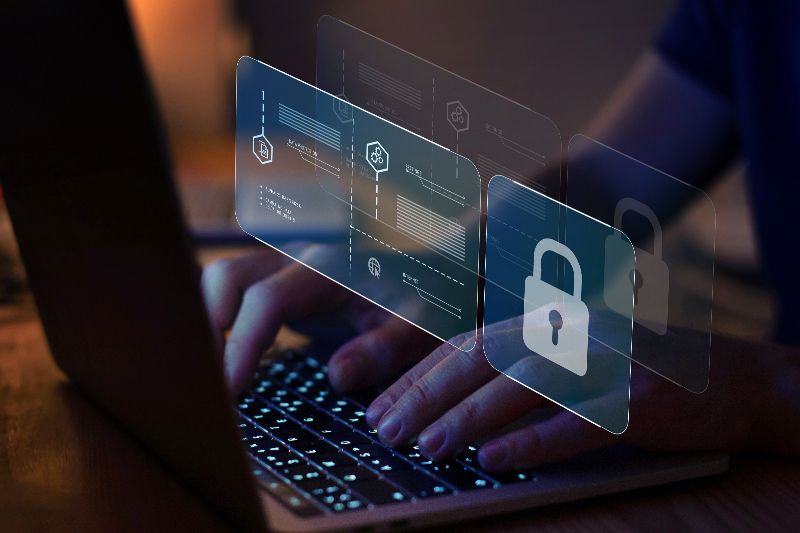 Vendor Linked Attacks
Hotels work daily with many third-party providers who sometimes have access to the hotel's systems. This way of working allows a great fluency in contracting reservations or in managing the stock of food and beverages, among many other tasks. But this also has its negative side, since the third party access to hotel systems increases vulnerabilities and security breaches.
It is important to solve this problem by trusted authentication methods, since, without a doubt, the prevention of computer attacks linked, directly or indirectly, to suppliers is another of the main trends in cybersecurity in the sector.
Cybersecurity gaps when introducing new technologies
Tourism is one of the sectors with the greatest potential for applying the latest technologies, such as Big Data, artificial intelligence or augmented reality. This turns the hotels in the perfect target for cybercriminals, who find such advanced security gaps in these technologies that they do not hesitate to take advantage of.
New technologies especially favor the appearance of new and sophisticated ransomware, malicious software that infiltrates the hotel's computer system, blocking its operation unless a ransom is paid.
Unsecured data management
Hotel customer data is perceived as real loot by hackers. In recent times, the volume of such data has increased dramatically, exponentially increasing the chances of it being used fraudulently and without authorization by third parties.
New cybersecurity trends They are very focused on the correct management and protección of this information, in order to comply with current regulations and avoid problems that undermine the prestige of the hotel.
Data protection in hotels: basic aspects of security and concept of accountability
It is important to act, globally and comprehensively, against the different ways of illegally obtaining this data, from online identity theft to methods known as social engineering, which include any deception or breach of trust to gain unauthorized access to information or systems. For example, impersonating a colleague who has lost the password.
Shortage of cybersecurity talent
The lack of professionals specialized in the new strategies and cybersecurity technologies It is another of the great challenges of hotels. Computer attacks are increasingly sophisticated, numerous and constantly changing, forcing the cybersecurity sector to evolve relentlessly. This translates into an imbalance between the demand for cybersecurity experts and the truly trained professionals available.
Do you want to make sure that your hotel is up to date in cybersecurity systems? In this case, we recommend you have a cybersecurity partner such as Cerium, That this especializado in the sector hotelier and with the means to design an effective information security strategy for your hotel; put it into operation, maintain it and update it. In addition, we offer cybersecurity training that will help your teams in preventing attacks.
Cerium, cybersecurity experts for hotels
Discover our suite of cybersecurity solutions for hotel businesses. More than 15 years of experience.
How to deal with these new trends in cybersecurity in hotels?
Do you want to know the keys to guarantee the computer security of your hotel? These are the fundamental questions that should always be present in your hotel cybersecurity strategy:
1. Awareness and training of employees in cybersecurity
Having the best technologies to prevent and counteract computer attacks is of little use if it is not accompanied by sufficient training and awareness of all your hotel staff.
2. Constant analysis of vulnerabilities
Due to the increase in computer attacks, the use of increasingly sophisticated methods and the diversity of threats and possible security breaches, it is very important to conducting external audits. It is the best way to detect vulnerabilities, define objectives and strategies, as well as periodically check whether or not the measures adopted are sufficient.
3. Have a cyber risk policy
Does your hotel have a cyber risk policy? If not, you should consider hiring one that suits your needs. In this article you will learn what are the coverages that this type of insurance should include.
4. Correct data protection strategy
The protection of the data of the guests of your hotel, both to be able to comply with the Data Protection Law, thus avoiding heavy fines and sanctions, and to guarantee the correct functioning of our establishment. The important thing is to avoid mishaps that could damage the reputation of your business or cause a loss of trust from your customers.
How can Cerium help you improve cybersecurity in your hotel?
At Cerium we are specialists in providing the highest level of security in your hotel networks and we have an added value that distinguishes us from the competition, our integral service, which includes, among others:
As a reference company specialized in the most advanced technologies for hotels, we are aware of the latest cybersecurity trends, we have a highly qualified team and we have the necessary experience to be able to implement an effective cybersecurity strategy, which is ahead of the methods and actions of hackers.
Contact us through this form: