Are your hotel WiFi networks sufficiently protected against the action of cybercriminals? The consequences of a cyberattack can be devastating. A hacker can sabotage all wireless installations, from Wi-Fi networks to Bluetooth-connected devices. In this article we give you some tips for improve security of your Wi-Fi networks.
Taking advantage of any network security breach, a cyber criminal You can access both the hotel's computers and mobile devices, as well as those of the clients; and steal passwords and credentials that can open the way for fraudulent use of data such as: bank accounts, card numbers, personal data...
The economic consequences, the damage to the image and credibility of the hotel and even the legal consequences for the attacked establishment can be considerable. In this article you will find tips to get the best protection for your networks. Take note!
Basic measures to reinforce the security of WiFi networks in hotels
In order to preserve the software and digital information of your hotel, as well as the personal data of your guests and clients, you will need a network high performance Wi-Fi. Only then can you guarantee the security of your hotel and third-party information and comply with WiFi legislation.
Our rHigh-performance WiFi networks designed specifically for hotels provide endless advantages:
They allow a complex encryption of the information, notably hindering access to data by unauthorized persons and its illicit use.
Security is enhanced with incorporation of access passwords to these networks.
It is possible to add a backup line, which offers backup in case of failure of the main network, guaranteeing the continuity of the connection at all times.
They facilitate Wi-Fi network integration with hotel management and marketing tools.
1. Activate an access control system
Do you want to have a totally secure WiFi in your hotel, both for the establishment and for your guests? So the first thing you have to do is activate an optimal access control system.
For this, it is necessary that you limit access to your WiFi network through a previous registration of the user, where he is also informed and requests the acceptance of the privacy terms, conditions of use and how the data provided will be used, always according to the regulations of the General Registry of Data Protection (RGPD).
This registration, which is done by means of a password and control of the total number of logs or users in your network, is the basic preventive action to reinforce the security of the internet connection in your hotel.
El Cerium captive portal, is a very good solution to control and manage access to WiFi networks through an authentication or login process, at the same time that it allows you to collect information from guests that you can use to offer them differential services and in future marketing campaigns.
On the other hand, having WiFi controller software can help you configure all the APs (Access Points) in your hotel in the same way. In addition, from these software you can create advanced rules to allow or deny traffic and configure access control lists.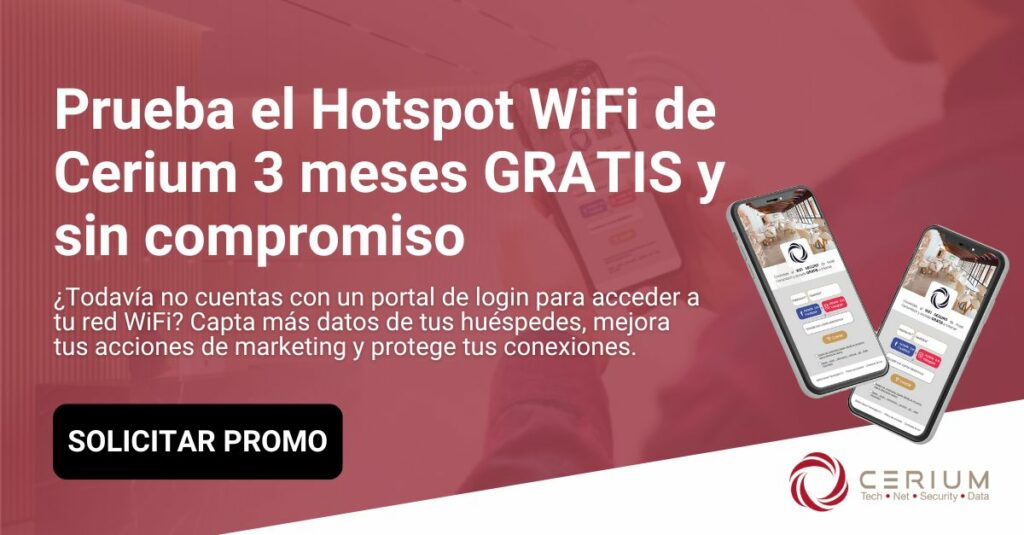 2. Have a backup WiFi access
Imagine for a moment that your hotel's main Wi-Fi line goes down, or is inoperative for a while in order to deal with a security problem.
A situation like this is not a concern if you have a high-performance Wi-Fi network, since you will have a plan b: a backup line that allows both hotel staff and your clients to continue using the WiFi network without problems. Your guests will not even be aware of the incident.
3. Know the different types of security for WiFi networks: towards the WP3 security protocol
There are different standards of Wi-Fi security that, although they arose with the same objective, to protect wireless networks from attack by intruders, the truth is that not all of them provide the same security guarantees.
The WEP standard, an acronym in English for Wired Equivalent Privacy, began to be developed in 1.999 and today it is considered a system that is too insecure and easy to hack.
The WPA2 standard, acronym for WiFi Protected Access, was later developed to correct the important security limitations of the former, incorporating improvements like TKIP, which allows you to change the password from time to time. But it was violated in 2017.
Finally, the WPA3 standard, which is the one we recommend you install in your hotel, since it incorporates the latest advances in network security, such as 256-bit encryption algorithms, which make a sabotage attempt very difficult.
4. Activate network intrusion detection systems
Another key factor for protect wifi network of your hotel is the detection of unauthorized users. For this, there are tools focused on detecting, minimizing and monitoring these attacks, such as IDS (intrusion detection system) or proxy systems.
The IDS system is responsible for automatically monitoring network traffic in search of certain patterns that could lead to a cyber attack. the use of a proxy It serves for block web addresses potentially dangerous or malicious.
5. IP log systems and browsing history
Temporarily registering and archiving guest navigation is the best way to detect possible fraud or cybercrime carried out by the clients themselves. In this matter, the WiFi hotspot of Cerium is the only one on the market that incorporates the IP Police System, that allows you to save the IPs of your guests and clients for 6 months.
Thanks to this system, you can keep track of your guests' browsing history and respond to the authorities if a crime or fraud has occurred from your WiFi network. It is important to highlight that the content of guest communications is not stored, but only the destination IP of their navigation.
6.Rogue AP Detection
A Rogue AP is a rogue access point that connects to a company network and is run by someone who has not been approved. This clearly has negative effects, so it is recommended to detect this access point in time to help us prevent Wi-Fi equipment from being spoofed and thus prevent them from intercepting Wi-Fi network traffic. your hotel.
7. Bet on a security audit of your network
After reading this article, it is very possible that you have doubts about whether your WiFi network is secure enough or adapted to the new demands of your guests. To allay these fears and find out exactly how you can improve your network connection, it is best to carry out a Wi-Fi audit through a specialized company.
An audit It will give you the information you need about the security of your WiFi network, detecting weaknesses and vulnerable points and the best way to solve them.
Cerium, your technological partner to improve the security of WiFi networks in your hotel
En Cerium We have the best professionals and technical means to analyze your WiFi network, improve it (with bandwidth optimization services) or implement a new WiFi project to guarantee connection security and provide the best experience for your guests.
In our company we approach each technological project under a layer of ciberseguridad, designing comprehensive management and security solutions. We not only secure WiFi networks, but we provide all the networks and equipment in your hotel with a high degree of perimeter security.
Furthermore, we can even implement a centralized monitoring system, both at the equipment level and at the security level. Thus, our clients can keep track of the security threats of each employee's computer.
Do you want to improve the security of your hotel's Wi-Fi networks? Fill in the following form to receive information about our WiFi audits and our network protection technology.