Carrying out good hotel maintenance management is essential to reduce costs and guarantee guest satisfaction. To do this, it is advisable to act in two directions: on the one hand, incorporate cutting-edge technologies that facilitate maintenance management and reduce the number of interventions and, on the other hand, implement technologies focused on preventive maintenance.
Are you looking to reduce maintenance expenses to substantially improve the profitability of your hotel business? Then this article interests you.
How to improve efficiency in hotel maintenance activities
The maintenance department of a hotel is responsible for ensure that the facilities, infrastructure and equipment are in optimal conditions to ensure the comfort and safety of guests and staff.
It is characterized by being an area with a lot of work with a wide variety of functions, among which plumbing tasks, electrical repairs, elevator inspection and maintenance of wiring networks, such as the telephone or TV network, as well as the maintenance of Wi-Fi infrastructure.
Considering that many of them are cumbersome tasks that consume a lot of staff resources and that this is a central department to achieve positive guest experiences, there is no doubt that improving the efficiency of these activities is vital to improve the margin of the business.
Reduce incidents for a better guest experience
The fact that the network cabling infrastructure does not work, the elevator is broken or the air conditioning cannot be turned off are incidents that can tarnish the stay of guests in a hotel. Therefore, investing in minimizing these types of events will be essential to make your experience the best possible.
El use of cutting-edge technology It is a key factor in this path since, on the one hand, installing state-of-the-art technology greatly reduces the probability of incidents and, on the other, these systems will allow equipment to be monitored and breakdowns anticipated.
In those cases in which it is not possible to prevent the failure from occurring, it will be essential to give a good response to the customer and deal with the matter quickly to minimize downtime. Staff training will be decisive in these cases.
Improve preventive maintenance in hotels
Carrying out preventive maintenance is a highly recommended protocol for hotel management, since it helps reduce failures and unexpected breakdowns and extends the useful life of assets and facilities. A good way to do this is by IoT sensors, which monitor the facilities and warn of any anomaly before damage occurs.
These scheduled interventions are significantly less expensive than unexpected repairs, which greatly reduces the costs of both internal personnel, as well as maintenance providers or related to breakdowns or replacement of parts.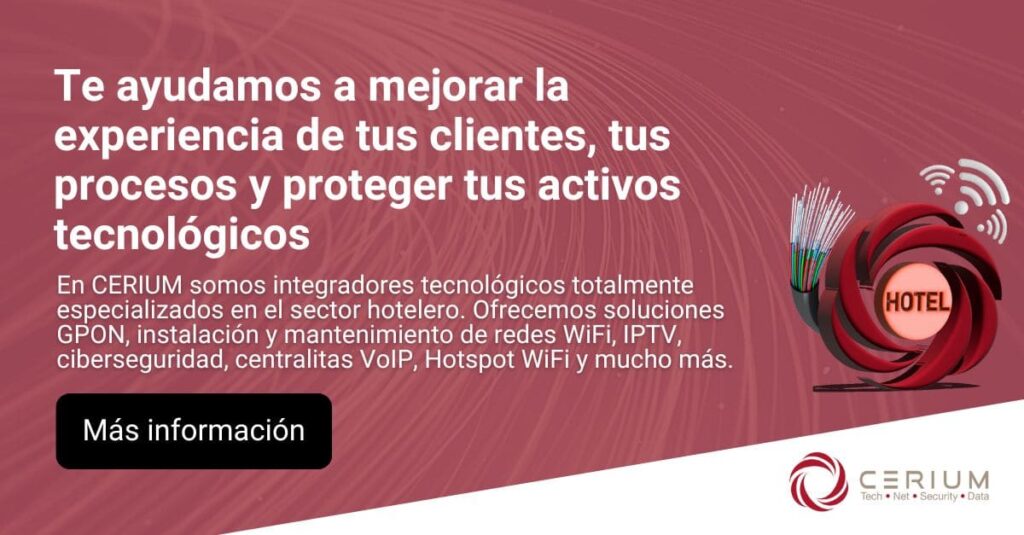 In addition, preventive maintenance improves the guest experience by ensuring that the facilities, common areas and rooms meet the standards necessary to meet your needs.
For all these reasons, it is estimated that the ideal is for this type of maintenance to reach 80% of all interventions, which translates into:
Increased efficiency.
Greater asset reliability.
Reduction of corrective maintenance costs.
Greater safety and comfort.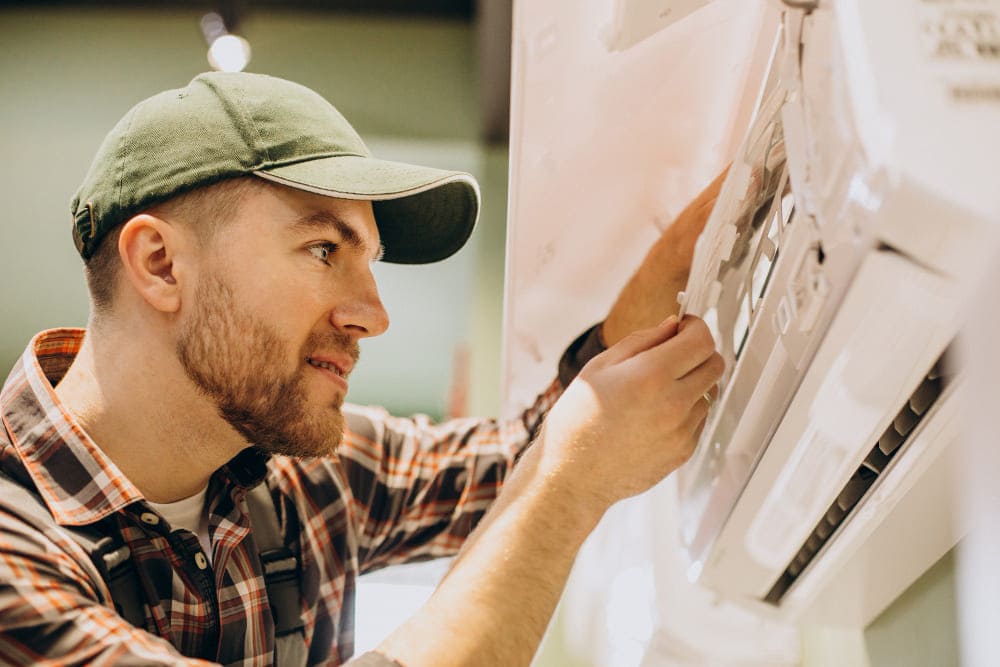 4 keys to reduce maintenance costs in hotels
Reducing maintenance costs in hotels is possible, you just have to follow some basic premises.
1. Bet on the latest network technology
Implementing the latest network technology is a great source of efficiency in hotel maintenance. In this sense, the fiber optic for hotels GPON It is the ideal solution, since it is a very resistant and durable technology, which does not require intermediate electronics or cooling (as is the case with conventional UTP cabling).
Its greater simplicity and the substantial improvement in the quality and of the WiFi network ensure a lower number of incidents on a day-to-day basis.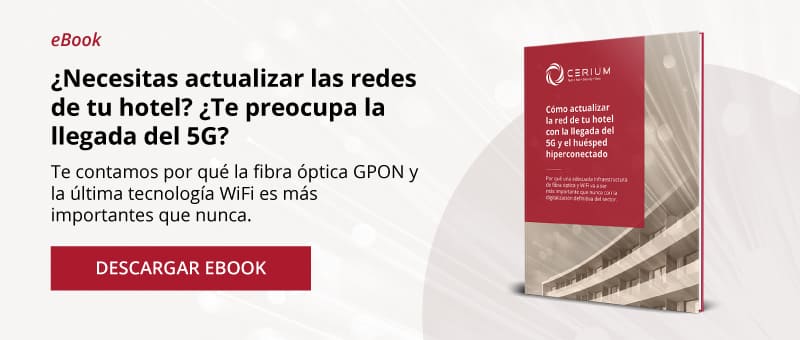 Keep learning: Differences between conventional cabling and GPON
In addition, fiber optics is the technological base on which other technologies can be implemented that help reduce costs, such as energy control and preventive maintenance, which allows establishments to identify savings opportunities and optimize their resources.
2. Reduce energy cost
The costs of energy supplies are an important item for hotel establishments, hovering on average around 9% of operating costs, according to MITECO (Ministry for the Ecological Transition and the Demographic Challenge of Spain).
In addition, it is especially worrying that it is the item that is growing the most month after month as a result of the rise in the price of electricity.
It is because of that look for alternatives to traditional consumption It is a priority for the sector. Some of the most effective actions in this regard are:
Switch to efficient light bulbs like compact fluorescents or LEDs.
Track the energy performance of devices.
Bring maintenance up to date.
Install timers on room thermostats.
Install occupancy sensors to control lighting.
Train staff to turn off devices in empty rooms.
It may interest you: 6 ideas to improve energy efficiency in hotels
3. Reduce recurring tasks for maintenance teams
One of the most intelligent decisions in the management of a hotel establishment is the forecast of an adequate departure for the constant maintenance and renewal of the equipment, which will prevent its obsolescence and will revert to the income statement and the image of the brand.
For this, it is convenient to carry out a hotel maintenance plan that takes into account the prevention and prediction of the risk of breakdowns and optimizes the resources invested. Technology it can be your great ally in this objective, by facilitating the monitoring of equipment and the automation of certain tasks.
4. Outsourcing of services
Hotel outsourcing is booming and in recent years has become an important source of competitive advantage for establishments.
Specifically, there are three main reasons why outsourcing maintenance services can improve the profitability of your business:
Allows convert fixed costs to variables and reduce labor structures in non-strategic areas.
Professionalize the services provided by referring each task to specialists in the field, which reduces the time invested and increases the quality of the result.
Improve the guest experience by adapting demand to peak occupancy and seasonality.
Cerium helps you reduce operating costs linked to maintenance
Cerium can be your great ally in optimizing resources derived from maintenance. Among our solutions there is one that is especially key to taking hotel maintenance management to another level: the installation of the GPON fiber optic.
GPON networks have 3 main advantages over their copper alternative:
Conclusion much more stable networks, which reduces the number of incidents to attend to, freeing up the maintenance team.
They have a much higher bandwidth, which allows them to transport large amounts of data over considerable distances without losing power or signal.
Conclusion more resistant to electrical interference, extreme temperatures and corrosion in humid environments, minimizing the chances of failure.
They stand out for their Energy Efficiency , since they do not require electricity for the distribution points.
So much so, that in projects developed by Cerium we have observed savings of over 30% in CAPEX for the simplification of the installation and up to 80% in OPEX, due to the reduction of maintenance and supply costs.
In short, hotel maintenance is, in general, an area with a lot of room for improvement in order to streamline processes and improve the profitability of hotel establishments. In this process, it is convenient to have a specialized provider such as Cerium to guide you in the renewal of infrastructures to optimize resources to the maximum.